compound sterile drug products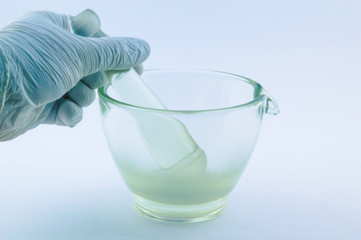 Violation of California Regulations
Cal. Bus. & Prof. Code § 4300 provides, inter alia,
(a) A pharmacy shall not compound sterile drug products unless the pharmacy has obtained a sterile compounding pharmacy license from the board pursuant to this section. The license shall be renewed annually and is not transferable.
(b) A license to compound sterile drug products shall be issued only to a location that is licensed as a pharmacy and shall be issued only to the owner of the pharmacy licensed at that location.
California makes clear that compounding limitations include: a valid prescription for an individual patient, a limited quantity, of not more than a 72 hour supply, and retail pharmacies are excluded.
16 CFR §1735.2. Compounding Limitations and Requirements, provides:
(a) Except as specified in (b) and (c), no drug product shall be compounded prior to receipt by a pharmacy of a valid prescription for an individual patient where the prescriber has approved use of a compounded drug product either orally or in writing. Where approval is given orally, that approval shall be noted on the prescription prior to compounding.
(b) A pharmacy may prepare and store a limited quantity of a compounded drug product in advance of receipt of a patient-specific prescription where and solely in such quantity as is necessary to ensure continuity of care for an identified population of patients of the pharmacy based on a documented history of prescriptions for that patient population.
(c) A "reasonable quantity" as used in Business and Professions Code section 4052(a)(1) means that amount of compounded drug product that:
(1) is sufficient for administration or application to patients in the prescriber's office, or for distribution of not more than a 72-hour supply to the prescriber's patients, as estimated by the prescriber; and
(2) is reasonable considering the intended use of the compounded medication and the nature of the prescriber's practice; and
(3) for any individual prescriber and for all prescribers taken as a whole, is an amount which the pharmacy is capable of compounding in compliance with
pharmaceutical standards for integrity, potency, quality and strength of the compounded drug product.
(f) The pharmacist performing or supervising compounding is responsible for the integrity, potency, quality, and labeled strength of a compounded drug product until it is dispensed.
h) Health care entity means any person that provides diagnostic, medical, surgical, or dental treatment, or chronic or rehabilitative care, but does not include any retail pharmacy or any wholesale distributor. Except as provided in § 203.22(h) and (i) of this chapter, a person cannot simultaneously be a "health care entity" and a retail pharmacy or wholesale distributor.
By Al Mohajerian | Published April 29, 2016 | Posted in Uncategorized  | Tagged 16 CFR §1735.2, compound sterile drug products, compounding pharmacy license |
Filed Under: FDA, Healthcare, Pharmaceuticals
Tagged With: Compounding Pharmacy